Puppy Owner Classes:

(Also helpful for first-time dog owners, or those who are planning to get a new puppy or adult dog, but don't have it yet)
Meets from 8-10 pm in the following locations:

Thousand Oaks area - First Monday of each month
Oxnard area - Second Monday of each month.

Topics:


Your puppy's personality and what to expect;

How puppies learn;

Ways to change your dog's behavior;

Housebreaking;

Chewing;

Biting;

Jumping up;

Socialization;

Planning your pet's areas;

Tips on pet supplies; and

Other suggestions to make life easier for all of you.
Don't forget to bring a picture of your pup to share, and lots of questions!

Class is for owners only, no puppies, please.
Nina age 3 months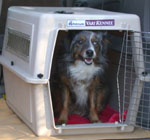 Please Click Once To Enlarge
Crate-training is a great tool for getting puppies off to a good start. Here's a step-by-step method so that your pup will love his crate.